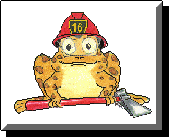 TINDER TOAD




Welcomes you to
My name is Rob Simpson and I am a retired Health & Safety / Equipment and
Driver Training Officer and Volunteer Firefighter.
My career in training spanned over 25 years and has incorporated
construction, transportation, and emergency and municipal services.
This involved Employee Health & Safety, Heavy Equipment Operations and
Commercial Driver Training, First Aid, CPR Training including interaction
with numerous Ontario Government Agencies.
In these capacities I have assisted in or created numerous Policies, SOP's, Guidelines, Training Programs, Job Needs Assessments, WSIB reviews, Budgets, Auditing and Evaluation.
​
In retirement I volunteer at a local thrift store, work part-time at a car auction, maintain a club's web-pages, and travel with my life partner, Sue, who is my plus one and is always there no
matter what I get mixed up in.
​
Over the years we have been fortunate to assisted and loved attending a friend's 100 acre horse ranch north of Georgetown, Ontario where we enjoyed the country life, while helping out with the chores.
We also have enjoyed driving throughout North America where we have travelled to most provinces and states.
We also like to take what I would call day trips, which sometimes last for a week or so.
These trips allow us to travel more locally in Ontario, Canada, visiting the vast array of Cities, Towns and Villages, enjoying their cuisine, hospitality and culture.
While in these areas, I also get a chance to take pictures of their past and present fire stations and sometimes their fire apparatus to add to my collection of fire station pictures and histories.
I continue to belong to a few organizations and subscribe to numerous trade-related magazines and newsletters, which allows me to keep current with the trends in the emergency and transportation communities.