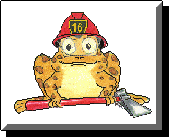 TINDER TOAD




Welcomes you to
Robby's Roost is an assortment of information from a retired training official,
primarily related to Health & Safety, Truck Transportation, and the Fire Service.
It includes a Calendar of Events, News Items, and other resources which may be of interest.
​
Enjoy fire service history, check out our compilation of Ontario, Canada Fire Station developments and events.
​
Have comments or you notice items you think should be added or corrected, please
let us know through the contact button at the top of the page.
Places We've Been, Things We've Seen